Please note that this Wiki contains SPOILERS! Read at your own risk.
Welcome to the Fire Brigade of Flames Wiki, a co-operative encyclopaedia dedicated to Atsushi Ōkubo's new manga series, which YOU can help expand by editing or adding pages and files. We are currently editing 197 articles and 389 images with a total of 13,211 edits since our foundation on September 22nd 2015.
---
To create a new article, simply enter the article title in the box below:
Trouble getting started? If you are new to wikis, check Help:Getting Started: don't be afraid to just jump in and start it! Others can edit and improve whatever you make.
Check out the Manual of Style to get an idea of how your editing journey on this Wiki would look like. You can also help the wiki by adding to article stubs, and creating wanted pages.
Latest Chapter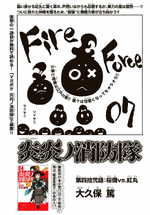 As Benimaru decides not to listen to Akitaru's words, Akitaru prepares himself with a shield, and goes in for the attack, but is pushed back by multiple fire-ball shots from the 7th Commander. Blocked by the fire-resistant shield, Akitaru swings it at him, but Benimaru uses it as a stepping stone to successfully kick Akitaru in the face. Akitaru quickly grabs onto him, but Benimaru reacts by punching him with a fiery fist, sending Akitaru backward. As the 8th Commander looks up in pain, multiple ignited matois are directed and forward at him, but he manages to block the explosion with the shield, to which he throws away after becoming unusable. Akitaru reaches inside his jacket, and throws a Fire Fighting Grenade at Benimaru's feet, dispelling a white fog, troubling Benimaru's sight. As Akitaru swiftly pushes through the mist to attack, he is kicked by the 7th Commander, and blown backward by an attack to the stomach. Akitaru pursues in his attempt to confuse Benimaru with the grenades, but is ultimately countered every time. As an injured Akitaru lay on the ground, Benimaru atop of him, the 8th Commander headbutts Benimaru, stating he can't give up as long as he's the 8th Brigade Battalion Commander. Read more...
Affiliated Sites
If you would like to become an affiliate of the Fire Brigade of Flames Wiki

contact us

.
News
The manga has been licensed by Kodansha Comics!!
En En no Shōbōtai, officially titled Fire Force, has been licensed by Kodansha Comics USA, and has its first volume coming to the west on November 8th, 2016!
Poll
What would you rate the series out of 10?